What toothbrush is best for receding gums?
Granted, it's not the sexiest topic, but gum recession is very common. In fact, according to the CDA, about three-quarters of adults have gums that recede—the result can be swollen, pus-filled, bright red or purple, or soft.
Gary Glassman of DDS, a Toronto dentist and endodontist, says there are many reasons for gum recession. "Some of the most common causes include over-brushing or over-flossing, genetics, poor oral health, aging, dietary choices and tobacco use," he told us.Other common causes may include:
Use a hard-bristled toothbrush
periodontal disease
hormonal changes
crooked teeth
grinding or clenching your teeth
The best way to tell if your gums are receding, according to Dr. Glassman, is to run your fingers over your teeth to see if you can feel the indentation where the gum line used to be. Another potential sign: Teeth are starting to feel more sensitive to liquids and hot or cold foods.
If you think you may have receding gums, it's best to make an appointment with your dentist as soon as possible, but there are also things you can do to prevent further recession at home. First, stick to a healthy diet, avoid tobacco products, and remove any piercings that may rub against your gums and teeth. What's more: "Daily flossing, brushing and rinsing ensures you have a good daily oral care routine," says Dr. Glassman. "So make it a habit to never skip any of these steps, and you'll improve your oral health significantly."
When it comes to choosing the best brush for receding gums, an electric toothbrush is usually the best, Dr. Glassman says. reason? "Most users of manual toothbrushes brush harder and more aggressively," explains Dr. Glassman. "This can actually trigger gum recession rather than help it because more gaps are created between the teeth and the gum line." Below, we recommend 4 of the best electric toothbrushes from AIWO in 2020 and 2021 for those with receding gums.If you have gingivitis or other gum disease, they may also be right for you.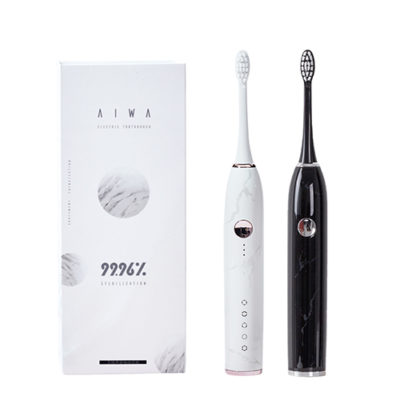 AIWO adult electric toothbrush is equipped with a powerful sonic motor, with a vibration frequency of up to 38,000 times/min. 5 cleaning modes, Care, Cleaning, Frequency, Massage, Whitening, can be selected according to actual needs. Power-off memory technology, each startup will automatically select the mode selected the last time it was turned off. IPX 8 waterproof technology, eliminating the worry of water entering the toothbrush. Wireless inductive charging, a single charge can meet the needs of up to 90 days of use.
Product parameter table
Product Name
adult electric toothbrush
Waterproof Level
IPX 8
Charging Type
 Wireless Charging
vibration frequency
up to 38000 times/min
Toothbrush Head
2
Endurance
90 Days
Cleaning Mode
Care ,Cleaning ,Frequency,Massage,Whitening
Smart Timer
2 MINUTES SMART TIMER
30 SECONDS PAUSE REMIND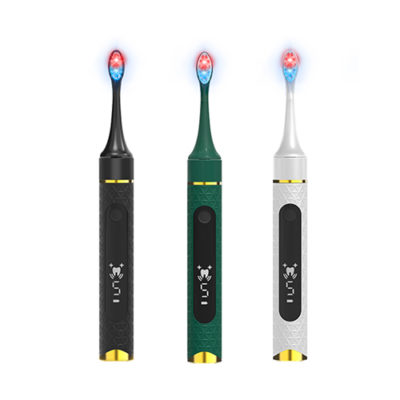 The parameters of this blue light electric toothbrush are very close to the parameters of the 4th black and white ceramic electric toothbrush. The biggest highlight of this product is the red-blue micro-wave technology, in which the blue light wavelength is 413 nanometers. Through the high-intensity blue light through the small fruit of the teeth, it can remove the pigment on the surface of the teeth or in the deep layer, and achieve a better whitening effect. which can make the teeth look whiter, and can also be used to increase the aesthetics of the oral cavity.
| | |
| --- | --- |
| Product Name | LED light whitening adult electric toothbrush |
| Waterproof Level | IPX 7 |
| Charging Type |  USB |
| vibration frequency | up to 38000 times/min |
| Toothbrush Head | 2 |
| Endurance | 90 Days |
| Cleaning Mode | 5 |
| feature | blue light whitening |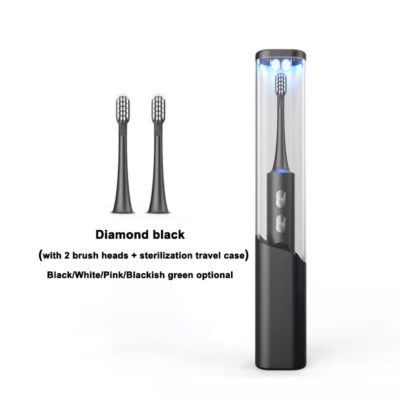 This electric toothbrush is available in black, white, pink, and blackish green, with 2 replaceable brush heads. The bristles are DuPont soft bristles, IXP7 waterproof effect, and the whole body is washable. 4-speed cleaning mode, up to 48,000 times/min high-frequency sonic vibration motor, deeply cleans tooth stains and plaque on the tooth surface. 500mAh battery with 45 days of battery life. 2 minutes intelligent timing, more scientific brushing time. With UV ultraviolet 360° disinfection and sterilization travel box, the sterilization rate is as high as 99.99%.
| | |
| --- | --- |
| Product Name | Adult Sonic Electric Toothbrush With Travel Case |
| Waterproof Level | IPX 7 |
| Charging Type | USB inductive charging |
| vibration frequency | up to 48000 times/min |
| Toothbrush Head | 2 |
| Endurance |  45Days |
| Cleaning Mode | 4 |
| Feature | UV Sterilization Travel Case |
| Color | black/white/ pink/blackish green |
| Battery Capacity | 500mAh |
| Rated Power | 2W |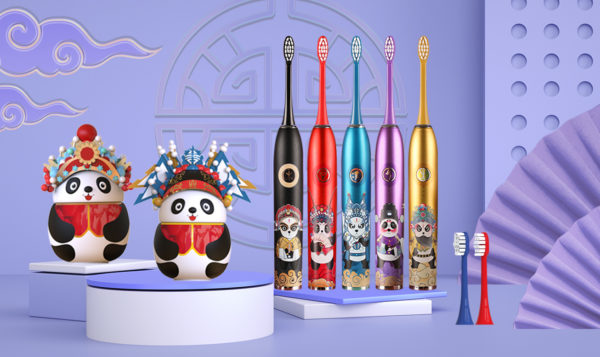 The appearance of the Peking Opera Panda series electric toothbrush adopts an exclusive design, which incorporates the characteristic Peking Opera elements, making the appearance more unique and outstanding. The 5 colors correspond to Sheng, Dan, Jing, Mo, Chou.
The surface treatment adopts self-developed 3D+ inkjet printing technology, and cooperates with the exclusive AT sterilization and disinfectant to effectively kill Escherichia coli, Staphylococcus aureus, and pneumonia. Botrytis, H1N1 virus 4 kinds of virus up to 99%. 5 adjustable gears, IPX8 waterproof, inductive charging. High-performance magnetic levitation motor, up to 38,000 times/min.
| | |
| --- | --- |
| Product Name | Peking Opera Panda Series Electric Toothbrush |
| Waterproof Level | IPX 8 |
| Charging Type | USB inductive charging |
| vibration frequency | up to 38000 times/min |
| Toothbrush Head | 2 |
| Endurance |  90Days |
| Cleaning Mode | 5 |
| Feature | Unique appearance and AT sterilization technology |
| Color | black/red/blue/purple/gold |
| Battery Capacity | 500mAh |
| Rated Power | 2W |
| Charging Time | 8h |
2.what to do when you don't have a toothbrush?
It happens all the time, it's okay. You're packing for a vacation, business trip, or long weekend and you forgot your toothbrush. While brushing with a suitable soft-bristled toothbrush is always best, if you find yourself without a toothbrush, my office would like to give you some advice
how to brush your teeth without a toothbrush?
Tip 1: Use paper towels
In fact the best alternative to a toothbrush is probably a thick paper towel. The texture of the tissue allows you to scrub your teeth and remove harmful plaque and bacteria from your mouth without causing harm. Just wrap a paper towel around your fingers, put a dollop of toothpaste on it, wet it, and start cleaning. It's best to start with a little toothpaste and add more if needed. Don't forget the back of the teeth, the chewing surface or the tongue. When done, rinse off.
Tip 2: Use your fingers
Don't panic if you forget your toothbrush and toothpaste. There is a simple trick you can use to clean your mouth temporarily. Start by washing your hands with warm water and soap. You don't need to dry them as you will need wet fingers for the next step.
Just start rubbing each tooth individually with wet fingers. Repeat this process on the back of the teeth and on the chewing surface. It may be necessary to rinse your fingers after a few teeth to prevent the transfer of bacteria from tooth to tooth. If you have a soft washcloth or paper towel handy, wet it and clean your fingers with a mild scrub. If your teeth still don't feel clean enough, rinse thoroughly and repeat.
Tip 3: Mix Your Own Toothpaste
If water alone doesn't seem to fix the problem, you can always try making your own toothpaste substitute. A little salt dissolved in about 8 ounces of water acts as a mild abrasive to clean your teeth. Salt also has natural antibacterial properties that may help eliminate some harmful bacteria. After mixing the mixture, you can dip your finger in it and scrub, or use a paper towel.
Baking soda may also help. Just dip a wet finger or paper towel directly into it and start scrubbing. If you find that the baking soda is a little gritty, you can mix some into water and use that instead.
The next time you find yourself without a toothbrush or toothpaste, follow the tips above. You may find that one works better for you than the other, but as long as you get rid of bacteria, your chances of cavities and other dental problems may decrease. As always, maintaining regular appointments at my Wichita-based dental office is essential for optimal oral health.
Related topic
1.Why replace toothbrush every 3 months?
2.How to disinfect toothbrush after strep?
3.How to use electric toothbrush?
4.How to brush your teeth without a toothbrush?
5.How to clean shoes with toothbrush?
If you want to buy an electric toothbrush, you can check out this article of ours:AIWO Best Pink/Purple/Black/White Travel Electric Toothbrush With UV Disinfection Case, If you want to know more about our factory, you can go through our homepage or contact us to learn more. We can support most of your customized needs.