Aiwa Group is established in 2018, located in Gaoxin District of Chongqing, covers an area of 10,000 square meters and have 207 employees. And we have obtained ISO90001,14001 certificates.   is a professional company engaging in research & development, sales and service of electric toothbrush, with investment in 4 electric toothbrush factories for Oral Care products, such as electric toothbrush for adult and kids. Supported by a strong company background and best resources, Aiwa Group Electric toothbrush has been exporting toothbrush to at least 60 countries.
As one of the leading factories and suppliers of oral care products in China, warmly welcome to contact us, and wholesale our toothbrush with good price, best service, fast shipping and OEM & ODM available.
Production Process
Based on our strong factory strenght and top-match exclusive tehchnology, we obtained many powerful partners. We have been cooperating with Huawe, Xiaomi, Philips and Oralb and other international brands for many years. Our products are widely sold in Europe, America, Middle East and Asia. We are commited to providing fast and perfect one-stop solutions for global partners to achieve win-win cooperation.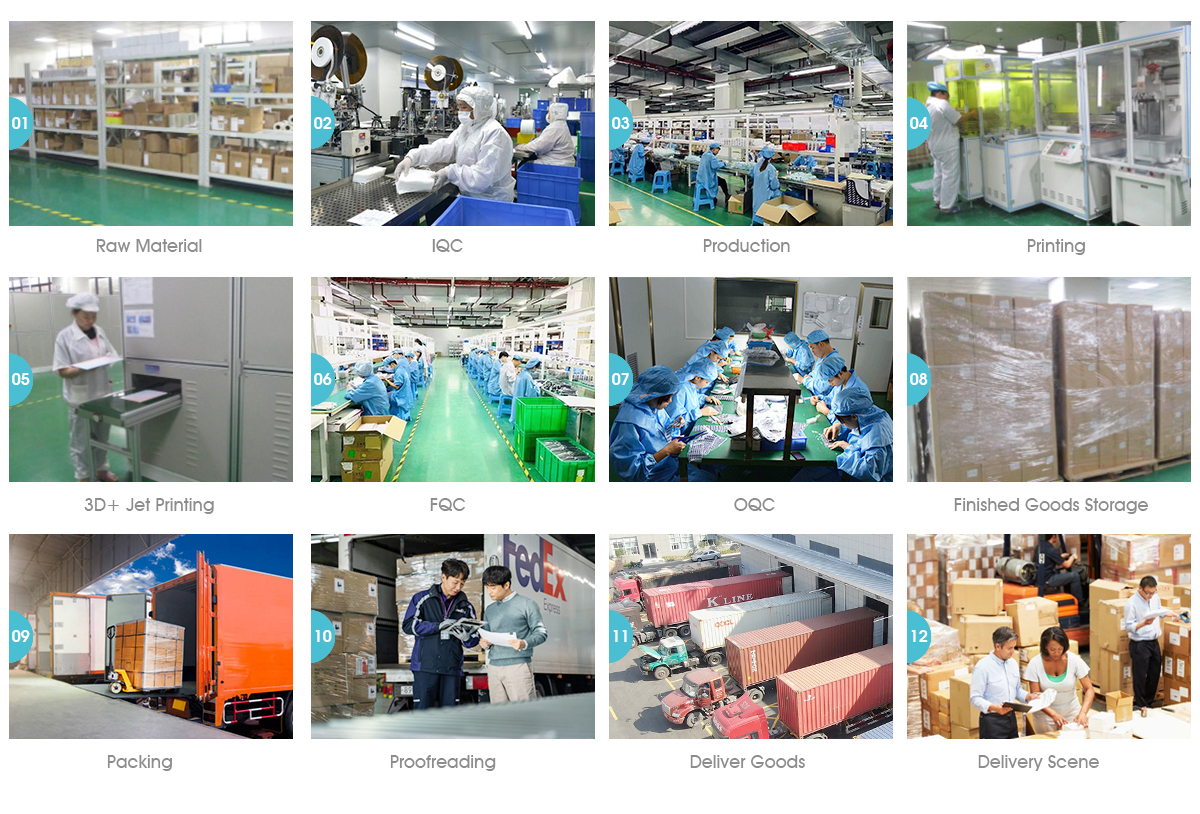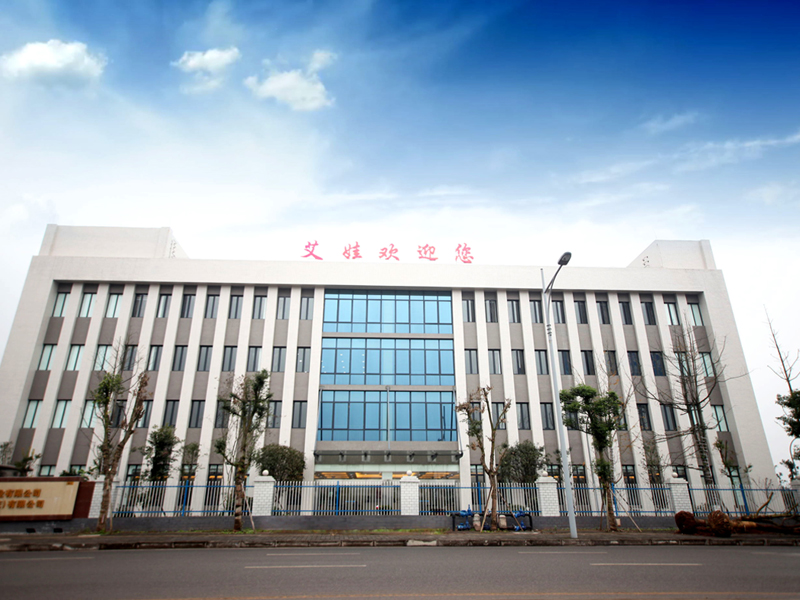 Best Quality: We have the best professional and experienced engineer(more than 10 years in this field) and strict QA and QC system.
Best Price: We are the manufacturer, we could control the quality well and reduce our cost to offer a competitive price and excellent quality.
Strong Production Capacity: 2 million pcs per month, could provide any customized design or package upon request, and we can provide OEM & ODM service.
Excellent Designer: We provide OEM and ODM service. Our designers skillfully use AI, CAD, Photoshop and other design software and can design the apperance of products accroding to customers' needs. Advanced Technology: we are the only factory in the world to master 3D inkjet printing technology.
3D Inkjet Printing Projects
We sincerely hope that our products and services are your best choice and look forward to working with you.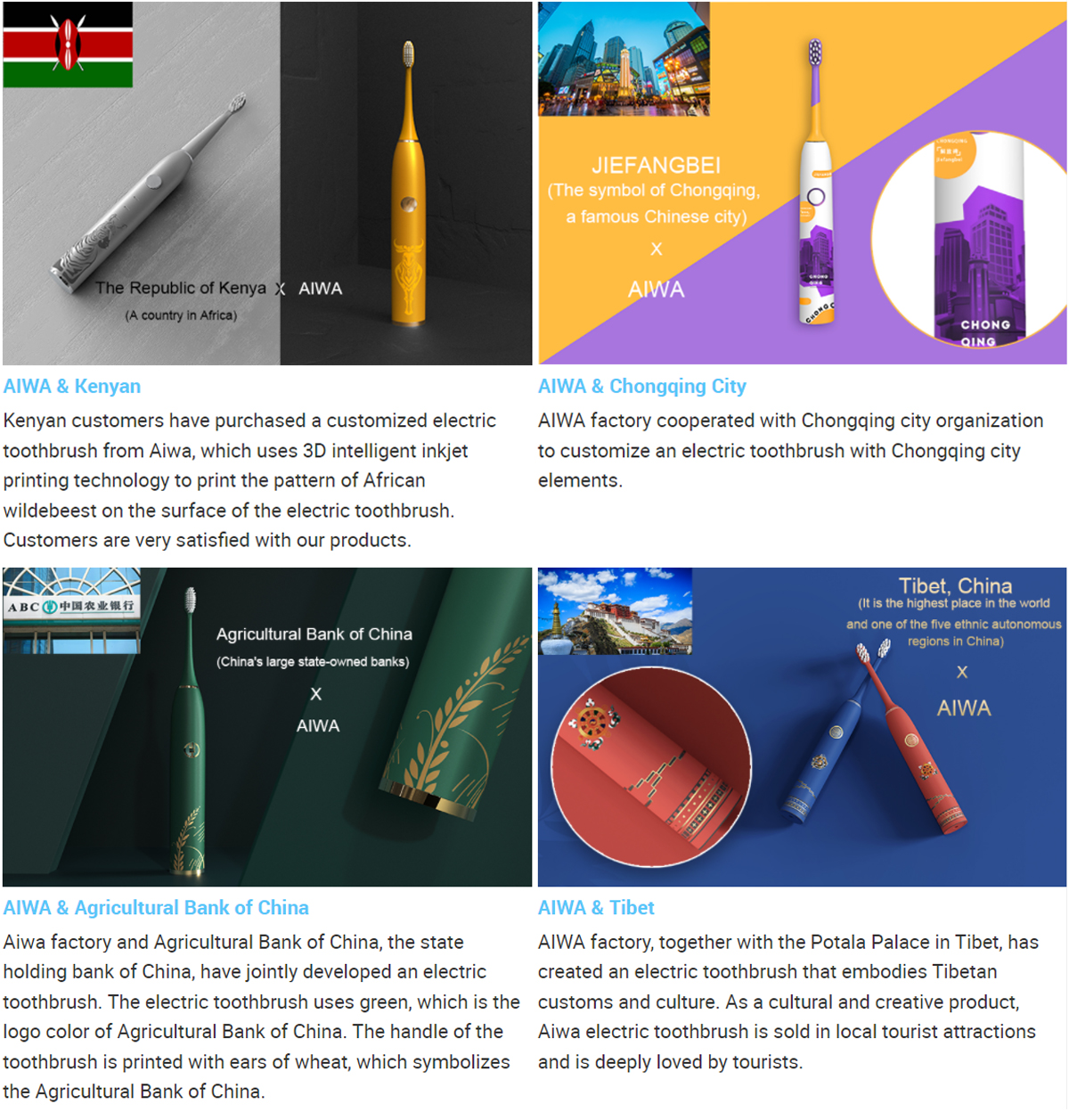 FAQ
1.What is the best electric toothbrush?
The best electric toothbrush is sonic type electric toothbrush. Sonic type electric toothbrush inside there is a vibration of electric motor, can let the brush head to produce high-frequency oscillation perpendicular to the direction of the brush handle, high-frequency oscillation when brushing your teeth brush head in addition to efficient clean tooth surface, toothpaste and water mixture also can produce a large number of tiny air bubbles, the bubbles burst pressure can further teeth clean dirt.
2.How to use an electric toothbrush?
Install the brush head on the motor output shaft. Under normal circumstances, there will be a tiny gap between the brush head and the subject, which is necessary to ensure that the brush head can vibrate normally.
Squeeze toothpaste on the brush head. Since the toothpaste contains a certain amount of friction agent, in order to increase the cleanliness, the oral cavity can be cleaned directly after the toothpaste is squeezed without water.
Put the brush head in your mouth and activate the power button, and press the power button to switch modes.
The bristles and gum threads move slowly at 45° (refer to Pap brushing hair) to clean the upper and lower teeth and tongue coating with the vibration of the motor. Do not press the brush head excessively or rub your teeth during the cleaning process.
Please rinse your mouth with water after brushing your teeth.
AIWP "Marble Hand-Painted Electric Toothbrush" adopts a unique sonic suspension magnetic levitation motor device, which has lower noise, higher vibration frequency and better cleaning. IPX8 grade whole body waterproof. Imported American DuPont nylon bristles, 6-second anti-splash design, 30-second smart exchange reminder, 2 minutes smart power off, smart pressure adjustment design, to ensure effective cleaning while avoiding excessive cleaning. The surface of the fuselage adopts AIWO's patented 3D+ inkjet printing surface treatment technology, the pattern and color are more vivid and three-dimensional, and the color will not fade permanently, creating a unique new trend of OEM service.
3.How to clean electric toothbrush?
After each brush, it is best to put the brush head in water, then turn on the electric switch and shake the electric toothbrush a few times. This will remove any foreign matter and toothpaste remaining on the bristles.  Toothpaste thoroughly clean once half a month, best can use white vinegar soak first ten minutes to half an hour, and then take out in the wash, can also use warm water soak, then add the other cleaning fluid to wash, put the electric toothbrushes in the water after washing and then turn on the switch, it take out after a few minutes to dry, put in ventilated, dry place, not directly at the sun.
4.How often to change electric toothbrush head?
It is recommended to change the brush head every three months.No matter whether we use a traditional toothbrush or electric toothbrush to clean teeth, when the brush bristles fade, harden, bifurcation and other phenomena, it is a reminder that we need to replace the toothbrush or toothbrush head in time.
1.The bristles, usually made of synthetic fibers, harden over time;  A variety of bacteria multiply after 3-4 weeks of use of a new toothbrush;  In the case of improper use and excessive force, the fighting capacity of toothbrush will decline in a straight line;  If you do not change the toothbrush or bristles for a long time, the toothbrush head will become too hard, which will easily lead to periodontitis, make the gums become very sensitive and fragile, and easy to bleed .The longer you use a toothbrush, the more bacteria can accumulate on the bristles. From a hygiene perspective, dentists recommend changing the brush head every one to three times.
2. For people with oral inflammation, low immunity and organ transplantation, it is recommended to change a new toothbrush every month;
3.cold and cold patients, after recovery should also replace a new toothbrush, to avoid bacterial re-infection.
4. Healthy people should change at least once every quarter, and those with conditions should change once every other month.  At the same time, it is necessary to clean and disinfect the toothbrush frequently.